Summer is Here!
Memorial Day is the "unofficial" start of Summer in the United States. This day (which takes place the final Monday of May) not only honors the men and women who have given their life in wars past and present, but gives Americans a much needed break from the hum-drums of work life and we like to celebrate it with family, friends lots of outdoor grilling and barbecueing.
While I don't care for the heat and humidity of Missouri summers (temperatures typically reach 95-100F/35-38C with sweltering mugginess), I love the spirit of experimentation with sauces and seasonings and flavors that comes with outdoor cooking. I'm planning on having several BBQ sauce and dry rub seasoning reviews throughout the remainder of the summer months.
What else is new that's seasonal? Well, my own homegrown chili pepper plants have sprouted several weeks ago and many are coming along nicely. I'm in the process of "weathering" them and will transplant them into larger receptacles within the next week or so and move them permanently outside. Here's a photo of them a week or two ago.
ZestFest Has Been Moved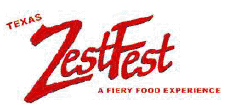 There was huge news this month from the hot sauce trade show front. One of the two largest spicy food conventions in the United States, ZestFest has long been a staple of September events for chileheads. That has recently changed. The show and the awards that go along with it, the Fiery Food Challenge awards, have been sold by its previous owners, Chile Pepper Magazine. The event itself has been pushed back from September 2010 to late January 2011.
A bit of controversy has come up surrounding the new ZestFest date. One, there's always the possibility of inclimate weather hampering travel to and from the show for vendors in the Northeast U.S.; many commonly have to deal with blizzards that time of year. Second, the new ZestFest date is within 45 days of the other largest spicy food convention, the Fiery Foods Show in Albuquerque, New Mexico, and attendance to both events by both exhibitors and attendees may prove to be more difficult.
Still, I see great potential in this new ZestFest show. It is to be held at the brand new and yet-to-be-open Irving Convention Center between Dallas and Ft. Worth, Texas, and a new venue with high tech and luxurious accommodations could be attractive to everyone interested in the show. Also, the Super Bowl (the most popular sporting event in America) is to be held one week after ZestFest in the same city, so extra attention will be on all goings-on before the show.
http://www.scottrobertsweb.com/Official-ZestFest-Info-Released-Its-Coming-in-January-2011
Chick-Fil-A's Spicy Chicken Sandwich
The trend of spicy food branching out into the mainstream has reached Chick-Fil-A, one of America's largest chicken-based fast food chains. I've recently reviewed their new Chick-Fil-A's Spicy Chicken Sandwich [http://www.scottrobertsweb.com/Chick-Fil-A-Spicy-Chicken-Sandwich]. I thought that while it lacked intense heat and fire that chileheads crave, it is still a delicious sandwich that everyone should try.
Blair's Golden Death Hot Sauce
I've reviewed Blair's new tropical-themed Golden Death Hot Sauce recently. While I liked it and thought it had potential, it didn't blew me away with its overall taste.
http://www.scottrobertsweb.com/Review-Blairs-Golden-Death-Hot-Sauce
Scott Takes on a Spoonful of Blair's Ultra Death Sauce
Not to give Blair an unfair amount of coverage, but there was something I had wanted to do for a while – take a spoonful of one of one of his super-hot sauces on camera. Yeah, you can find dozens of morons like me doing this very act on YouTube, but I had just wanted to put my own little spin on it. It was not until ChileFoundry's own Darth Naga ate a spoonful of Ultra Death (without the soothing benefit of having milk nearby) that I decided to do the same on video.
http://www.scottrobertsweb.com/Scott-Takes-on-a-Spoonful-of-Blairs-Ultra-Death-Sauce
Reviews
Review – ChilliPepperPete's Naga Headhunter Red and Dragon's Blood Hot Sauces
Review – 1st Degree Burn Blazin Jalapeno and 2nd Degree Burn Fiery Buffalo Doritos
Review – Bacon Hot Sauce
Review – Zane and Zack's Hellfire Habanero Cream Cheese
Until next time, keep it burning!
[relatedPosts] [adshere]